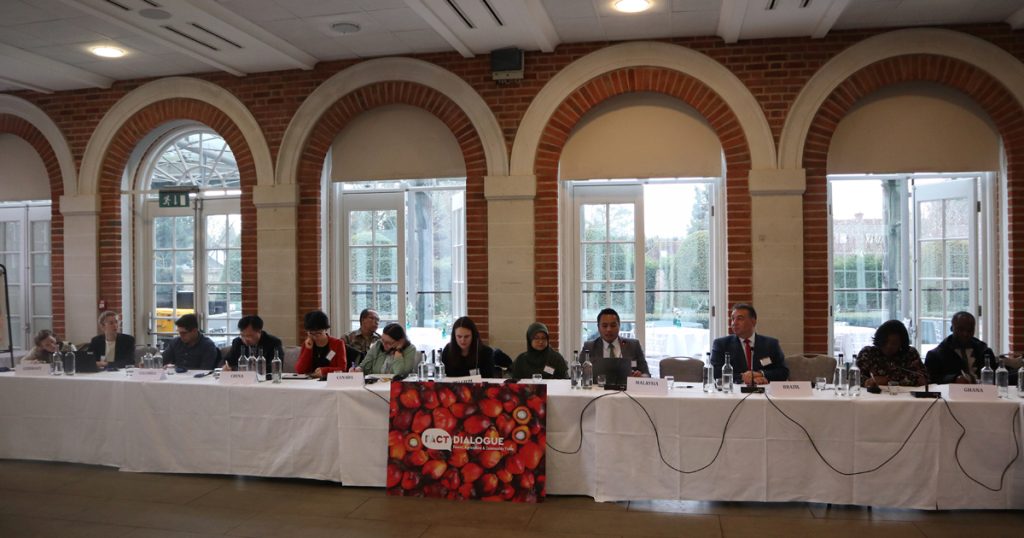 By invitation only
The first in-person FACT Retreat took place in the United Kingdom from 27 to 30 March 2023. The Retreat was organised by the FACT Secretariat in coordination with the FACT Co-Chairs, the Governments of the United Kingdom and Indonesia..
This 3-day retreat aimed to provide a platform for a relationship-building among governments, advance the action Items under the FACT Roadmap and agree on FACT strategic levers to deliver on its objectives over the next five years.
In attendance were representatives from Belgium, Brazil, Cameroon (virtual statement), Canada, China, Colombia, Côte d'Ivoire (virtual statement), Denmark, France, Gabon (virtual statement), Germany, Ghana, Indonesia, Liberia, Malaysia, Netherlands, Nigeria, Peru, Republic of Korea, Spain, UK, Uruguay, and USA.
The following key points emerged from the Retreat:
The value of FACT is in the frank, honest, and respectful exchange among members, and as a platform for learning and informal discussion on potentially complex and sensitive issues.
FACT should move towards action with clear objectives and strategies, and tangible outcomes.
Countries reiterated their commitment to halt and reverse forest loss and to contribute to the FACT objectives.
There are many national and local examples and initiatives that could contribute to FACT objectives, which demonstrate the need to approach the FACT thematic areas in an interlinked manner.
FACT should continue to recognize and consider countries' different positions, circumstances, and sensitivities.
FACT should have a "light touch"; its processes should not be overly burdensome and activities should not be too resource-intensive.
Major challenges exist related to the emerging due diligence regulations and there is a need for ongoing clarification and support to respond to them.